Progress & such
I'm making progress on my 3 main WIPs & am almost done with my Cityline Pink socks & should be done with them pretty soon...
Cityline Pink socks ALMOST done
I figure one more "color repeat" and I'll start the picot edging unless I decide to do a regular cast off. Since I'm using a knit 3 purl 2 ribbing all through the sock from the instep up, I didn't think a regular picot edge would look very good, so I'm going to try to do a double yarn over on top of the Purl 2 sections & a triple decrease on top of the Knit 3 sections and we'll see if that makes a picot edge to match the ribbing... if not, I'll try something else...will probably do a test swatch of this with some other yarn to see how it looks.
Muchos Poncho
This project is on hold while I wait for my US 13 Denise needle points and 52" long cable: I only have 1 US 13 point: the other one has gone missing & I have not been able to locate it, so have some on the way. So far I have finished the first colorwork section and am about to start on the main color stockinette section. I'm going to work all the colorwork sections with US 11 needles and all the stockinette with US 13... I THINK that'll work out well. I did a stockinette swatch and am on-target with my row gauge with both the 11 and 13 but came up short lengthwise with the 11s and the fabric feels a little better on the 13s, so 13s will be the ones I'll use. I was switching the 11 and 13 every time I turned rows, but I don't think this much switching will be good for the cables, so will just wait until the new ones arrive.
Here's a better photo of the swatch that I did of this poncho a while back... still doesn't QUITE show the turquoise (darker blue) color properly, but it's a better swatch than what I got from the digital camera: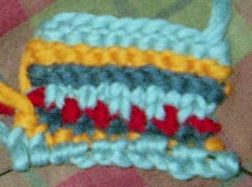 Rogue Sweater
I'm just about ready to start the patterning rounds of Rogue, just need to count. Been working on the socks so have not done much with this sweater.
Texas Weather
Just when I thought spring was here, we have 40s in the forecast for this week... AND IT'S SPRING BREAK!! Arrrgh..this means that the kids may go a bit crazy tomorrow & Wednesday, but it's supposed to start warming back up on Thursday. Did I mention that it was in the 80s on Saturday & the first game of the soccer season? Many people got sunburns that day... but I remembered to sunscreen myself & Reuven, so we only got a little red on Saturday (from one hour in the sun)... another light skinned family is probably in pain today: had I realized that they didn't remember their sunscreen, I would have let them use ours, but ours was in the car.
Evan's team lost 0-1... not bad considering that they played against one of the best (if not THE best) teams in the under 10 group...
Shawl
Here's a somewhat better photo of the shawl that I showed you a couple of entries back: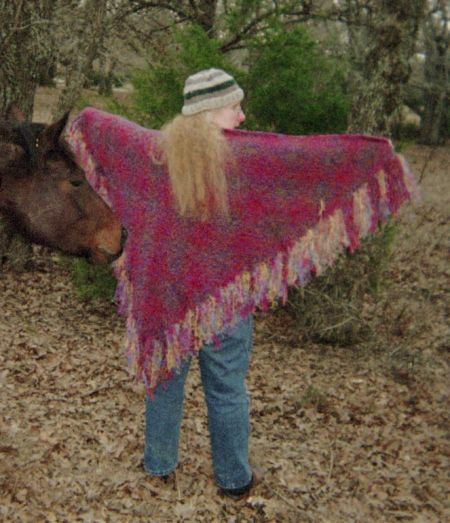 Posted by Jessica at
11:46 AM
|
Comments (0)
painting a day & other stuff
Found a blog that I find fascinating... click here to see some interesting little paintings... I especially like his peanut butter sandwich paintings (click the PB&J Giclee prints link on the sidebar of this page)... so real, it almost makes me want to throw up!
As for myself, I'm a bit blocked artwise... the closest I came to drawing anything was a pastel drawing of Dumbledore a few days ago and then on Sunday, I was having a math race with Micah (we both work to solve the math problems and he has a goal to get to where he's faster than I am at doing them) and was waiting for him to finish a page, so did some doodles...
Been a bit stressed lately, but hopefully things will calm down a bit now...
Rogue & WB Muchos Poncho & Pink Cityline socks
Got most (if not all) of the body hem done for my Rogue sweater..once I check to see that I have 12 rounds of biased knitting, I'll switch to the pattern needles.
Haven't done any new work on the Muchos poncho in a while...
Have been working on the Rogue hem during TV shows so haven't done any more work on my Cityline socks..I only have 2 or 3 more color repeats to go before I'm ready to make a picot edge for them...
Music stuff
We got a cheapo violin for Evan & Micah's birthday to see how they like it. So far it looks like Micah's more interested...but the one who's REALLY interested is their dad... he took that thing out of the package & case & started playing with it & his face lit up like a 3 year old with a gallon of ice cream.
This reminds me of when we gave Reuven his first taste of ice cream when he was a baby: he made a sour face (shock from the cold) and then opened his mouth up as wide as he could for MORE.
But Gary seems to really like the violin. We got a book from & by Larry McCabe called How to Play the Fiddle... it's available through him on eBay. The only thing that's keeping him from playing more often is that we need some kind of tuner... I love the sound of the violin, but I don't think I'll learn to play it... didn't bond... but when I pick up my flute or a pennywhistle or recorder, then I feel quite at home. The only problem with those instruments is that the sound is a little too high for me to hear clearly...I need a wind instrument with a lower range & a little louder... perhaps I should save for a sax or something?
Posted by Jessica at
12:35 AM
|
Comments (0)