Tuesday update.. puppy news
Yesterday we went to the vet for a followup checkup & the vet was very pleased with how he is doing. He has nearly doubled his weight since we found him (he was nearly 12 lbs on Wednesday July 7th and lost another lb by the 9th).. he weighed in at 19.8 lbs yesterday and may well be over 20 now!
The vet thinks that he is 5 months old because of a tooth that she saw that is just now growing in. She thinks that he has a good chance of catching up to whatever size he is supposed to be... we'll see!
The vet's office was kind of amusing: there was someone with a large dog with her & she had picked up a smaller dog... the smaller dog was SOOOO happy to see the larger dog! I would have let Indy play with them or socialize in the waiting room, but I figure it'd be best to wait until he's got all his vaccinations. Normally I'm conservative about such stuff but after what we went through with parvo with Theresa's puppies back in 2008, I'd rather vaccinate. There is just way too much parvo in the area!
Haven't felt like knitting or drawing the last couple of days. I picked up 2 packages of inc brand gel pens from Dollar General and returned them because I had tried 2 or 3 of the colors in the non-glitter package & came to the conclusion that I'd just rather replace my other set of gel pens from Walmart with another of the same type. I'll do that next week. I really really REALLY hope that Walmart does not discontinue them, but if they do, well I guess I'll just have to find another type elsewhere (unless Walmart comes up with something else). The ones they have now are $9 and I think are acid free & archival. I found them in the scrapbooking section. When I replace the set, I'll try to remember to post the name of the set.
They are fun to use & the color laydown is decent especially for sketchbook use: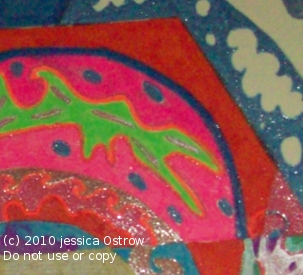 Above is a sample from my sketchbook from an April doodle...it probably isn't just the gel pens but also my other markers...
Actually I may not get the markers this month, may wait until after I get some acrylic paint, gesso & hardboard or/and wood strips to make some canvases...a few weeks ago, we found some canvas in a trashcan (probably from a crashed plane at an RC flying field) and have some that I bought a few years ago that was in storage...
Posted by Jessica at
08:59 AM
|
Comments (0)