Sketchbook Monthly Project
Still have yarn & patterns for sale, go to the previous entry:
http://weavingrainbow.com/HSblog/archives/2010_03.html#000290
Sketchbook Monthly Project (what is home?)
I got a little sketchbook from the Brooklyn Art Library Coop and the theme is "Where I Live"... I'm trying to work out how I am going to approach this theme... obviously I don't currently live where I consider HOME... but I want to stop having our identity connected to having lost our house last year... stop having that as part of "who I am" or "who WE are"...
SO the question is, how to approach the theme...
"where I live" can have so many meanings... I put "Home is where the heart is" on the front page...but am not happy with how that design is coming out so may be able to salvage it with some kind of collage...the cover art (done with paint markers) represents this trailer & the tree next to it. I love that tree... not sure what type it is... it's reddish at the ground level but that could be clay soil, not sure... I'll find out. The leaves have not started growing on it yet.
But this is a sketchbook & not everything in a sketchbook would need to come out good... also not sure how much writing to do... though this could be a place to explore word art...
One thing about the sketchbook: since I use markers quite often in my sketchbooks, this paper isn't really suitable for ink..it's pretty thin... but I'll manage!
Posted by Jessica at
07:21 PM
|
Comments (0)
Pattern & Handpainted Yarn sale
Until April 7 I'm selling the following Cottage Creations patterns for $5... IN STOCK ONLY... contact by email as this is not the website price...
Wonderful Wallaby
Kyler's Kardigan
Lilies Little Sweater
Rialey's Sweater
Iowa Cruise Socks
Wisconsin Winter Socks
Big Sven Sveater
Scandanavian Cardigan
Babies & Bears
Babies & Bears for Grownups
The Grabbit, Projects for Community Knitting
More Projects for Community & Family
Still More Projects for Community & Family
Comfort Gifts for family & community
Toddlers, Norski Sweater & Cap
Tunic Sweater for family
Log Cabin Afghan
Rambling Rows Jacket for Family
Mighty Mitts & Flap Caps
Bakers Dozen of Warm Scarves
I also have a small handful of Two Old Bags patterns which I'm selling out for $5.25 each:
Lucy Bag
Knit/Purl Bag
Handpainted Yarn
Here's a couple of photos of the yarns I have for sale: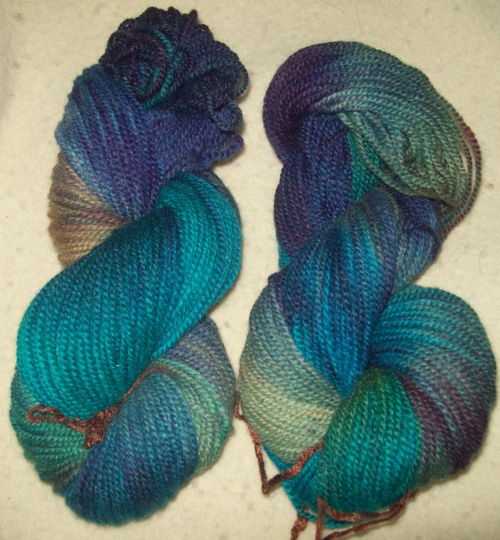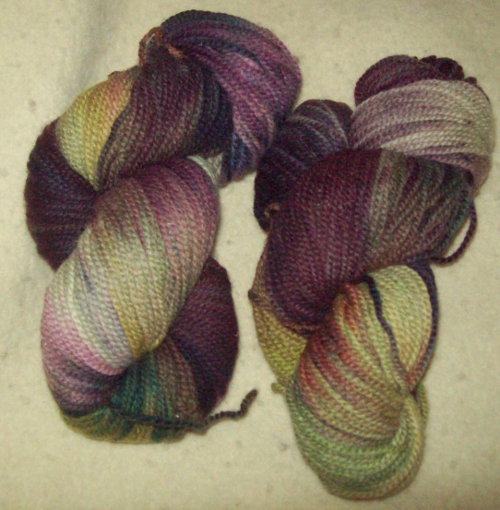 There's more on my Flickr page here
General Update
Still waiting to move back to our place... the electric is all set up & ready to be turned on.
Need to save up for some other things before we can move in.
It'll be a year on April 9th since we lost our house! I'll be glad when we can stop living in limbo...
Knitting
Have not been knitting a whole lot. I really want to knit Evenstar, but have not felt happy about the yarns that I have for it. I overdyed a couple of cashmere yarn samples & have one more skein to wind onto the niddy noddy...
Using a niddy noddy is NOT a lot of fun: I have GOTTTTTTTTT to make one of those PVC pipe skein winders!! I've nearly crossed the yarns a few times and it just takes too long on the niddy noddy...
The cashmere yarn that I sample dyed looks like it was be more fun to knit with than the unwashed/undyed cashmere: it's softer & I love to watch color changes in variegated yarns!
Here's a start in the cashmere right from the cone: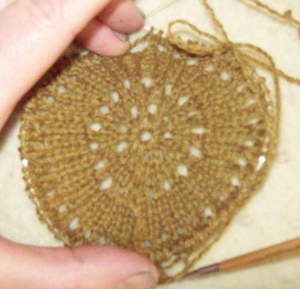 I haven't gotten to the actual patterning yet...I'm also wondering if I need to go up a needle size or two, will see how knitting with the washed yarn looks!
The dyed/washed cashmere should be more pleasant to knit with!
Here's the bamboo start:
Going to go finish winding the rest of the skein that I was working on, pop it in the pre-soak solution so I can handpaint the skeins later or tomorrow before clue 4 comes out....
Posted by Jessica at
12:55 PM
|
Comments (0)