Happy Birthday, Micah & Evan!!! 15!!
I refer you to this page for a couple of photos from 15 years ago..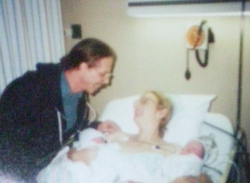 This is our first family photo...
Both are taller than I am, one is over 6 feet tall...teenagers rock...
Micah requested Mexican food for his birthday meal & Evan requested pancakes:
This looks like a good crock pot recipe for enchilada casserole, so I'll make it & anyone who wants tacos can put their casserole into the tacos..
will also make some Spanish Rice and may mash up some beans for some refried beans...
I'l also make my own taco seasoning mix & enchilada sauce... I make a roux with butter or oil and flour & chili powder & add tomato sauce to that... voila...
Evan requested pancakes, and I found an awesome recipe and it really is the world's best pancake recipe! When I first tried it, I put a couple of teaspoons into the milk since we didn't have buttermilk & put in a dollop of sour cream into the batter as well... used a little more milk to compensate for the thickness of the sour cream...
For syrup, we use this brown sugar pancake syrup recipe
This may look like a lot of work but it really doesn't take much more time than opening a can or box of ready made this or that...
Yum! Bon Apetit!
We won't talk about my knitting & weaving projects as I've got a serious block... I occasionally dabble with my color markers, inktense pencils & sakura pigma pens and I've wound some yarn, looked at patterns... meanwhile pattern reading & UFO-WIPs rule!!

Posted by Jessica at
12:54 PM
|
Comments (1)