November 21, 2009
treasures in storage
Was at storage today, working on emptying stuff out... found a box that had about 5 of my sketchbooks from college, one was from my Freshman Drawing 2 class that I took with Professor Sanders at SUNY New Paltz in Summer of 1978... that was a good class... looking at the drawings makes me think I should never have stopped... oh well... I still draw a little, but mostly abstract...
I wrote some notes in the back of the book... mostly about how to draw better ("I want to develop a "strong fist"") and also about what to depict with my art.. about not wanting to show the ugliness of the world... hmmm maybe I'll type it out sometime!
Also found my Carol K Russell "Tapestry Handbook"... yay!!
We found the synthesizer last time I went, but Micah couldn't figure out how to get it to do stuff & we couldn't find the manual online.. the lights DID flash a bit...
Hopefully next time I go, I'll go with a few trashbags & throw some stuff out.. that should help get the storage space cleared up & hopefully empty by December or January 1st...depends on how much help I get. I'd love to not pay for storage any more!
Our housing stiuation is still in "wait" mode... waiting to save up funds for septic..
Also have been adjusting to the new schedule now that Gary's working full time plus overtime plus 10 to 12 hours a week of travel time...
Knitting
On the knitting front, I've got 2 or 3 pairs of socks in active progress... one pair is part of the Miss Marple Mystery knit along & I am a bit more than 1 clue behind & by tonite might be 2 clues behind... we'll see if I get any more done on clue 2 today... meanwhile, here are a couple of slightly outdated progress pics: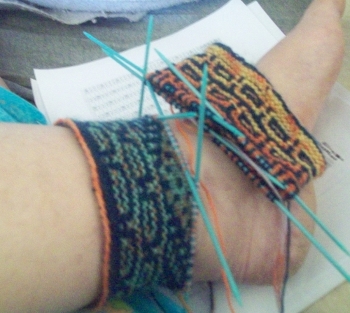 It fits!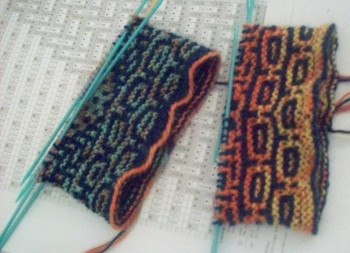 And an inside out view: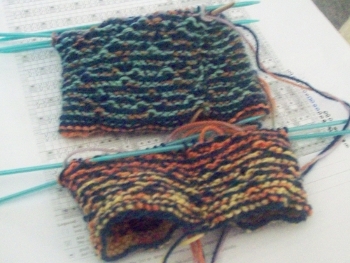 I've also been handpainting some yarn.. some of it is for the Knitting Purls yarn club... can't post those yet, but will show the others once I get photos taken...
Have a nice weekend, everybody!
Posted by Jessica at
01:27 PM
|
Comments (0)
November 19, 2009
oddness & curiosities
It's weird how things work out... we found out about Gary's new job AFTEr we made arrangements to get the double wide... we knew he was applying for various jobs but were not doing the "all eggs in one basket" sort of thing... kept plunging forward even though we still had lots of unanswered questions about how things would turn out, etc...
If we had known about the job, we may have proceeded differently... but we'll just continue to plunge on...
The day the big old oak tree went down, I found something VERY interesting in the area where the garage was... it was a book by Ram Dass titled "Remember Be Here Now"... it didn't burn completely, just around the edges & such... turned it from a book into a potential work of art... that's pretty much the ONLY book that survived... it survived sun, rain, fire, cold, wind... the pages aren't intact, but they ARE there... I'm seeing this as a message & as soon as I can afford to, I will buy another copy...
Wiki describes it at this link
Here are some photos of the pages: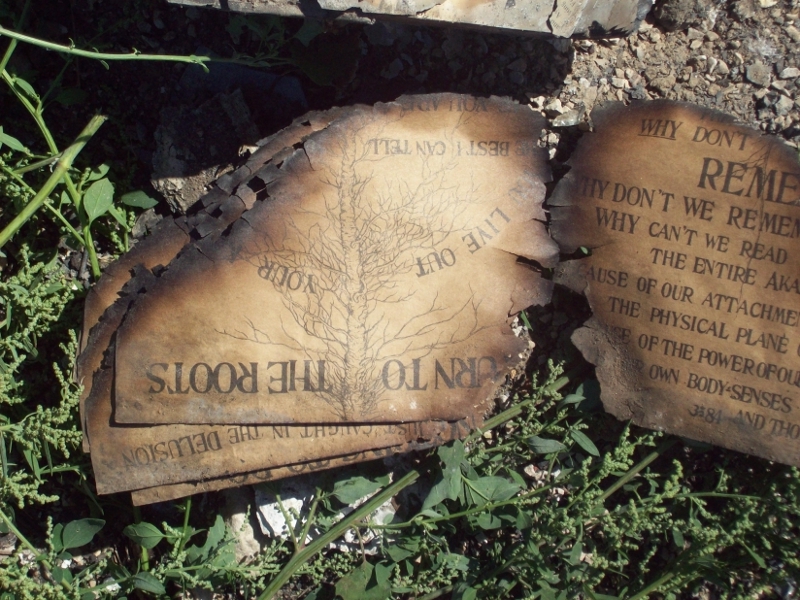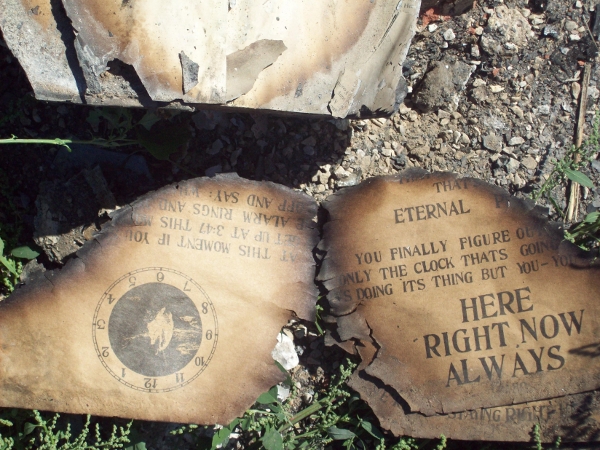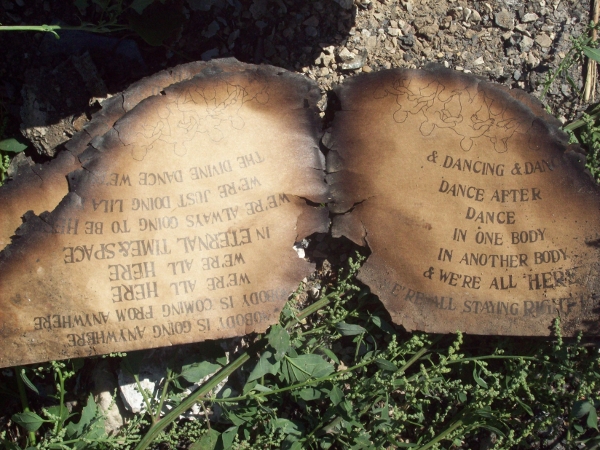 There's a LOT more pages, but this is just a sample...
Posted by Jessica at
11:38 AM
|
Comments (2)
November 03, 2009
AEDM-Art Every Day month
I didn't want to do NaNoWriMo or NaNoSweMo or even NaNoDoWhat this month but found about about AEDM on this site after reading about it on one of my EverydayMatters digests This looks more do-able given all the things we have going for us with HOPEFULLY actually finally (someday? when??) moving to our doublewide!!
I don't know where my camera cable is, so will pick up another one of those nifty little card readers & will take photos & upload them every few days. I don't like handling my camera's SD card that much, so will just upload in batches.
I set up a set on my Flickr page for AEDM here I copied a couple of Ram Dass pages onto the set that I found that had almost burned the fire from the book "You Are Here Now"... found the pages about a month ago, which is kind of cool. I'd like to somehow preserve these pages, maybe use them for some artwork/collages... I've got a whole bunch of them. They're brittle but it is still amazing that they saved in the form that they saved! A message perhaps?
Gary's been working full time for about a month now... he's on 2nd shift & the last 2 weeks he was on 1st & between that & getting used to the stupid new time change, my body clock is messed up... ugh... guess I'll go to sleep after posting this!
We have to save up for some things before we can actually move... hopefully we'll get over there before there is a need to turn on the heat. The heat here is propane & propane heat & a mobile home is scary... add 4 sometimes-wild kids to that &... argh!
We need to buy more wiring before we can tell the electric company to hook up & also flooring for a couple of the rooms & stairs to get inside... right now we have cinder blocks for that, but it's not ideal. We also need fencing for the dogs... Toph & Puzzler can be on one of those overhead clothesline type runs, but I don't want that for Pixel & want to be able to let her & Goldie go outside & do their business without having to walk them every time...
Nuffernow!
Will close with a couple of fuzzy photos from my phone: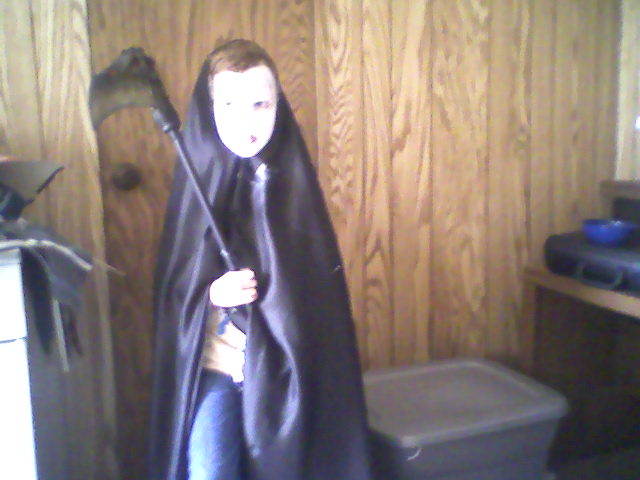 Our youngest on Halloween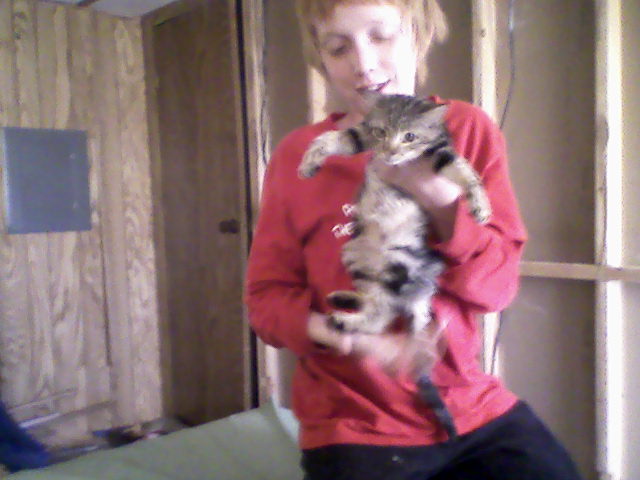 Another new family member...his name is Kenny... guess where the kids got the name from?

Posted by Jessica at
02:33 AM
|
Comments (0)