blah blah blah... (this one's for Sandra!)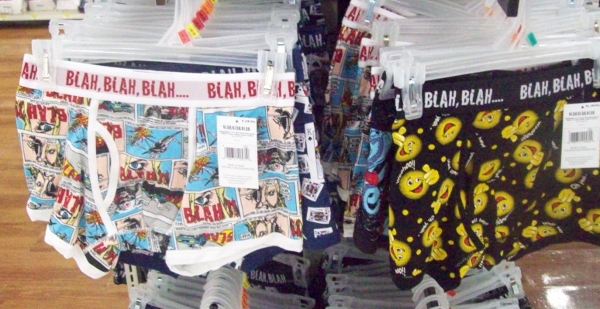 On one of the email lists I'm on, Sandra Dodd has had a thread that the above underwear reminded me of... when I saw the underwear, I had to take a photo! :)
Posted by Jessica at
11:39 AM
|
Comments (1)
yarn & a book for sale
I'm selling a couple of things (and will have a bit of handpainted yarn to sell as well soon)...
Some tapestry yarn...
this auction It's tapestry wool yarn. I'll take $10 for it which includes US 1st class shipping...
Yesterday we went to Hobby Lobby & a used bookstore & got some cool stuff, a 24 count box of Lyra Polycolor pencils & a small Art of Drawing sketchbook. I already had a nice copy of Tapestry Weaving but since it's a good book to have, I went ahead & bought the copy the bookstore had so I can share it with someone... I'll take $30 for the nicer copy (very good condition) it which includes US media mail shipping...
If you want anything, email me
Okay, enough advertising stuff!!
Also did some handpainting today... depending on how nice the yarn comes out, I may sell some... I still have some yarn soaking. It's Briggs & Little softspun which I'm going to overdye &am just waiting for the yellow dye to cool down...
No photos yet, maybe once they come off the roof...
We're still up in the air about where we''re going to live, but we're working on it... worst case, we'll get something temporary set up at the old place... we're wide open as far as where we can live... I think we'd rather stay in Texas & in the general area, but... there's probably a zillion options...
Some things we need to consider is that we're a noisy family...AND we have a drummer in the family!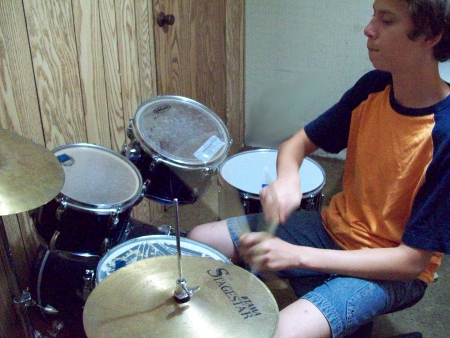 And we like to play our music loud... etc., etc... etc...
Posted by Jessica at
09:20 PM
|
Comments (0)