July 31, 2009
Blogiversary & My Sister's Birthday
Happy Birthday to my wonderful older sister Carol!!!!!!
Happy Birthday to you
You Live in a Zoo
You look like a Monkey
And smell like one too!! Love ya sis!!!!
I've been blogging since 2002...that makes it 7 years... :) I started blogging here:
Rambling Warps Blog on blogspot
I mailed the tapestry postcard today: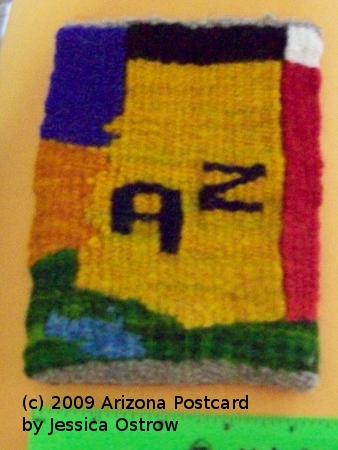 back of the postcard, all stamped & postmarked: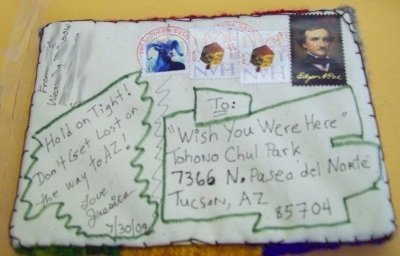 Our Living Situation
We're back to the drawing board with things:
1: we need to move out of where we're staying at the end of August because the owner's son is coming back to live here.
2: there is no grant money available to rebuild... there may be in January, but even that is VERY iffy.
3: there are lots of options... I'm brainstorming & thinking of ideas... ideally it would be nice to stay where we are since the boys have friends, I have friends & stuff like that, but if this is a stage in our lives which means it's time to move on, then we will...
Meanwhile, I close with a photo of Mr. Jellybean in the cupboard: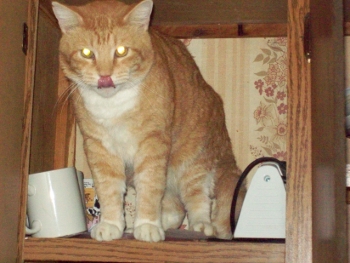 I rescued the cup after taking the photo...
Posted by Jessica at
06:27 PM
|
Comments (1)
July 26, 2009
Weaving & stuff
Fiber Art Postcard exhibit
I'm going to send a postcard to the "wish you were here" exhibit in Arizona..
here's the link for info about the fiber postcard exhibit
I decided last night that I was not happy with the colors I had on hand, so dyed a couple of skeins for the piece: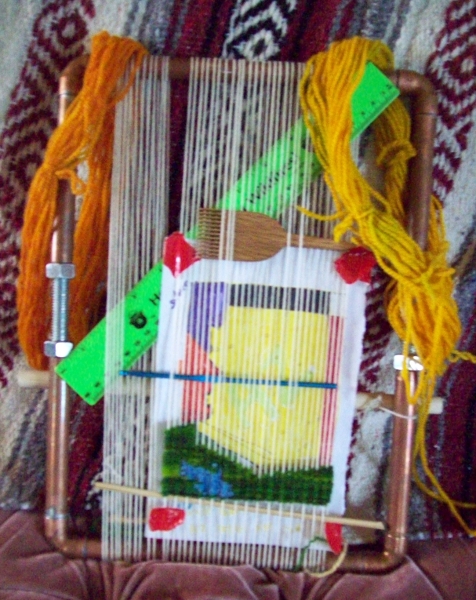 dyed skeins
While I had the dye stuff out, I also did a couple of skeins: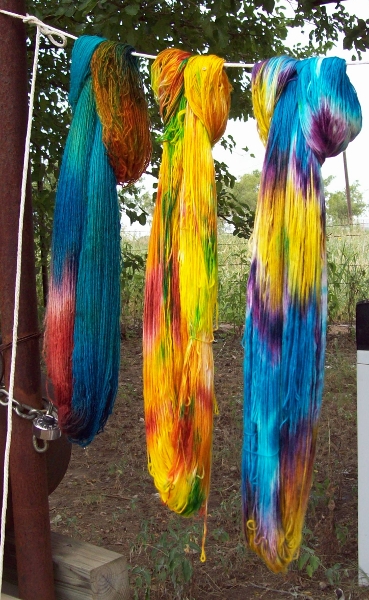 The other side of the same yarns: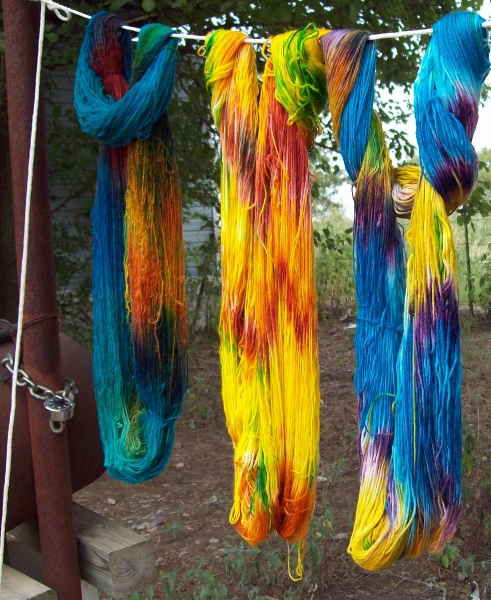 the middle skein is Fireball 3 and the one on the far right is Bird of Paradise (thanks for the name, Birdy! grin!!) The one on the far left is "leftovers"... had a little bix of mixed color that I couldn't put back in the jars so tossed it on the yarn...
What happened while I was dyeing yarn? Well, I spilled a wee bit!! Here's a photo: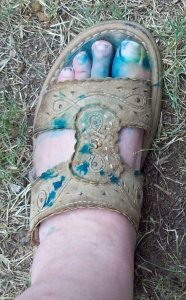 And here is a photo of two of the 3x3 pieces done on my PVC pipe loom: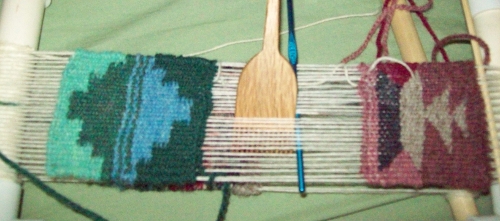 Not gonna use PVC pipe any more, it's not stable enough & also for the size, it's not efficient because the elbows "steal" some of the width... you get some of this with the copper pipe looms, but not as much. Here's a photo of 2 looms that Gary soldered for me, along with the cutting tool... I cut the pieces, he solders the elbows on...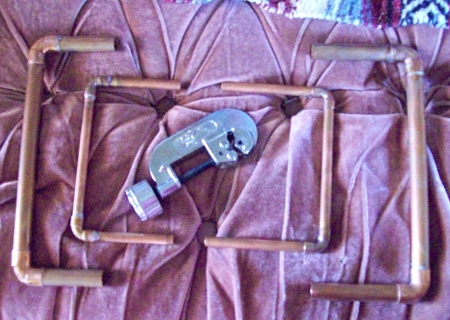 One looms is made with 1/4" pipe... it's the smaller one. I don't know how well this will work/how sturdy it is... might be okay since it is small...
If it turns out to be a good loom, I'll be able to have a portable project. However, I'll reserve weaving in public for when I won't have to talk to anyone... this could work if I'm in the park with the kids... knitting is more sociable as I don't have to LOOK at what I'm doing every second!
I have another the same size as the small one, except it's made with half inch pipe instead of quarter inch pipe. It's heavier & portable, too... don't have a photo of that one at the moment. Both of these looms will be good for 4x4" pieces and postcards (maybe?) and ATC sized pieces... I oughtta try sport weight yarn!
I'll close with a photo of my son's rubber band ball: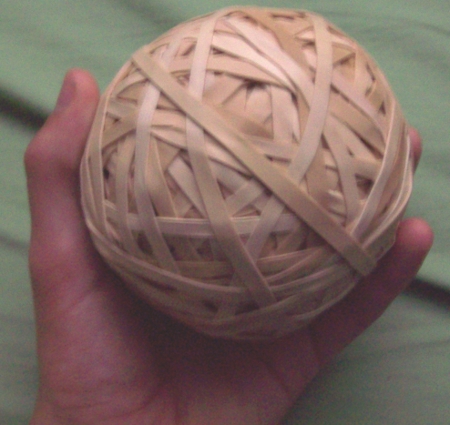 He used 1-1/2 lbs of rubber bands!

Posted by Jessica at
02:49 PM
|
Comments (0)
July 05, 2009
socks, socks & more socks
Couldn't resist casting on a pair of Fixation socks... empty Harmony 40" size 3 needles... need some cotton socks...
I have a pair of socks in progress on dpns with Crystal Palace Bamboo...
The toe almost done, not sure what I'll do with the body of the socks but I'm thinking about a mosaic pattern with the blueberry yarn shown...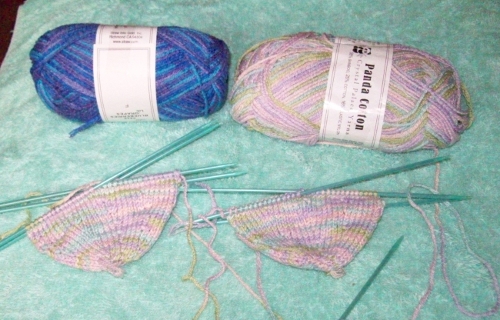 The Heartland socks are waiting for the heel... need to order a smaller needle for that part since I'm not capable of doing back & forth stockinette at the same gauge as in the round... US 0 might do the trick... wish Knitpicks needles came in US 00... they don't and I don't want to order HiyaHiyas right now.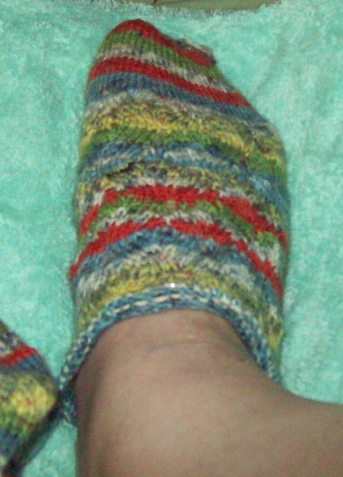 Handpainted Yarn Fun!
Handpainted some yarn this week... please excuse the garish green shower wall in the background... if we end up staying here, we'll paint or something! Also, the yarn with a lot of yellow in the middle is NOT as yellow in real life... try telling that to the camera!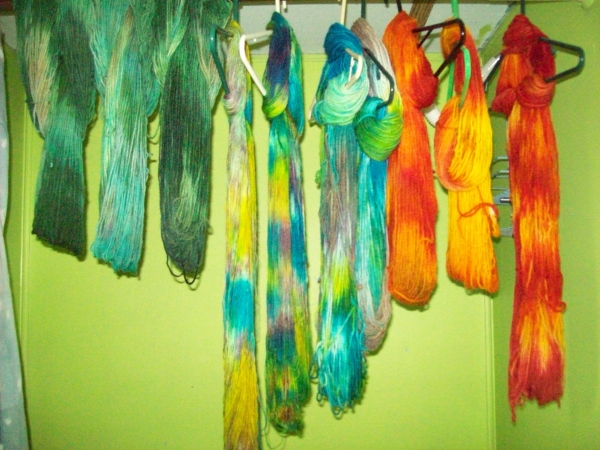 I may have some for sale at the end of the summer... these are already spoken for.
Toph!
We had Toph neutered on Thursday. Here he is in his party hat: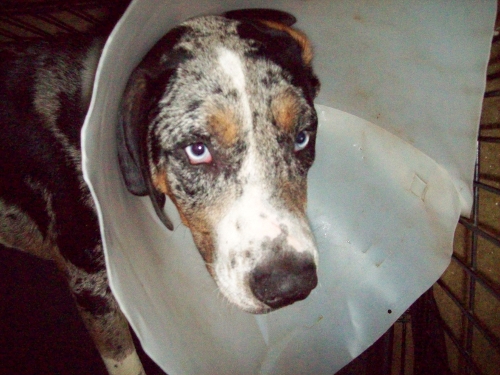 I figure we can take it off on Wednesday or Thursday... we'll see how "things" look...
We're not sure if we're going to try to re-home him or not. He's NOT good with cats, gets too excited when he sees them... that'll leave us with only Puzzler (from the litter of Theresa's puppies)... she's better with cats, gets excited but is more gentle with them. Housebreaking her might be somewhat of a challenge.
We have a drummer in the house!
On Monday we picked up the used set of drums that we put on layaway for Micah.. he's been busy tuning them & learning about them & life has gotten a bit loud lately! But I think he loves it, and eventually will get better...
Beef Tongue contest winner!
I put the names in a bowl & asked one of the kids to pick one...
Nancy is the winner! I have emailed you! She will be getting a Cottage Creations pattern booklet.
Congrats!!
Posted by Jessica at
08:14 PM
|
Comments (2)