May 30, 2009
Yarn Harlot in Texas #2
Yesterday was pretty neat...Harrison & I rode along with Gina & got to meet a couple of LSSK folks and also Melanie of Mystery Stole/Pink Lemon Twist fame was there... that was awesome! There were Ravelry folks there as well...
Photos!
Stephanie signing books (notice the Samuel Adams bottle!):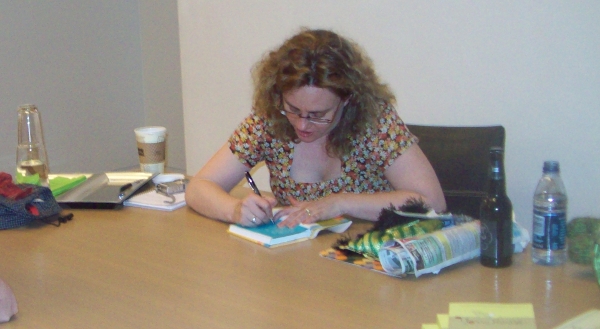 Gina, Harrison, Moi & Stephanie: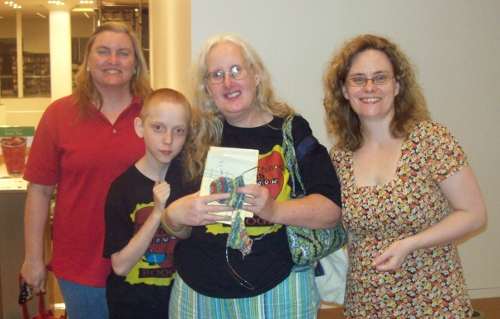 Melanie of Pink Lemon Knits. She's wearing the gorgeous Flamenco wrap: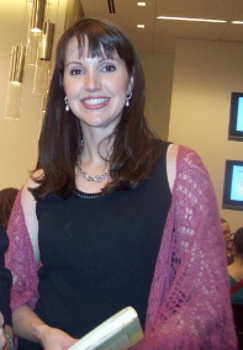 I worked on these socks while Stephanie spoke to the group: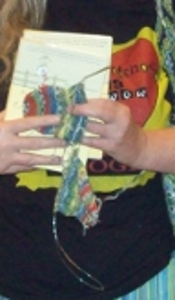 One quarter of the knitting is an easy patterned section... for a good part of the time, I was fighting with one of the sections because the count wasn't coming out right... it's from this pattern It IS pretty easy, just needs a few seconds of concentration & also gotta make sure you're doing the k1-YO-k1 and ssk-k2tog at the RIGHT TIME & right place since you do one round of it where the k1-YO-k1 comes first & another where ssk-k2tog comes first...

Posted by Jessica at
11:40 AM
|
Comments (1)
May 29, 2009
Yarn Harlot in Texas
I'm looking forward to seeing Stephanie Pearl McPhee in Plano, TX tonite... I'm meeting another knitter & we'll head on over. Should be fun! (Plus I'll get a copy of Stephanie's latest book Free-Range Knitter: The Yarn Harlot Writes Again)
Today we'll return the computer we rented (NOT this one!!) and the hard drive for Gary's computer should be here... hopefully the adapter for it will be here as well. He also ordered a parallel port so that we can use one of the printers we have...
Yesterday I went to a drama class party where we viewed the DVD for Robin Hood. I got a copy of the DVD as well as the photos from the play. I'll be posting some of them soon.
Looks like we won't find the other 4 cats... I go over to the other place every so often to see if any of them show up. Wednesday I stopped by to bring my bike over here & none of them showed up... so I guess the 4 we found is it..
On the knitting front, I'm making bookmarks, dishcloths & socks... the dishcloth in progress is super easy, the bookmark in progress is "shut up I'm concentrating" and the socks have an easy pattern 1/4th of the time and the other 4th of the time, it's plain stockinette...
Nuffernow!
Posted by Jessica at
08:39 AM
|
Comments (0)
May 20, 2009
Back online, finally...
...although I will still have to go to the library to use their computers so I can print shipping labels & packing slips. No biggie, I've got some printer ink on the way and we'll see if that helps with the printers we have here...
It's been an interesting few weeks... losing our house is almost bizarre. I miss the things that we lost but some of them are replaceable, some aren't. Those things I'll just remember.
I've been working on replacing my pattern stock, and now I have plenty of Cottage Creations patterns, a few Bear Brain patterns & a few 2 Old bag patterns... I have some SpinCraft patterns on the way as well as some more Briggs & Little patterns. I don't have any Patons patterns, but will be working on restocking them.
Yarn, we'll see... I'll dye some & will take pictures & post them...
Right now, we're staying in a mobile home owned by our neighbors at the place where our house used to be.
There are more photos on my Flickr page
Here is an photo from this article with a photo of Gary & 2 of the boys with one of the older ones in the background: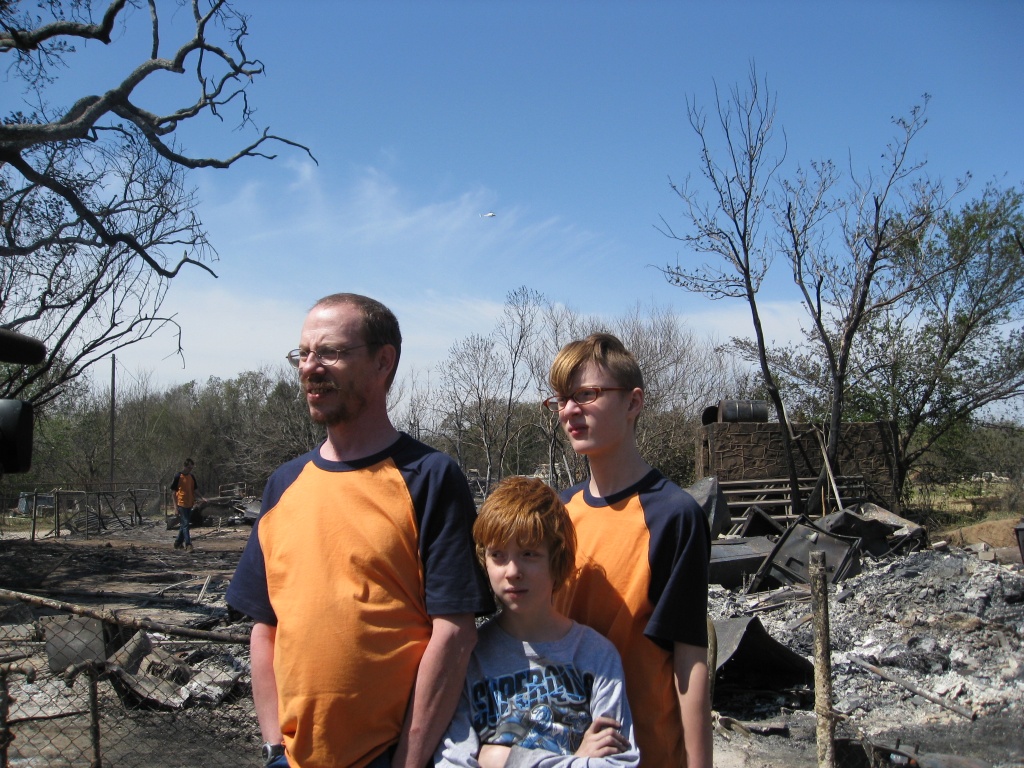 The only structure on our property that survived was the rock shed.. it's got room for a crib, and old peg perego twin stroller (the front back type) and 2 or 3 bicycles and a couple of fishtank stands.
It's late, I'm tired, so I'll write more another time!
Posted by Jessica at
03:28 AM
|
Comments (1)