July 31, 2011
Another year!
Even though I've barely been posting in this blog, it still exists. It exists in my heart & it is a part of my history... both this one and the original link *&* the blogspot one...
Been blogging since 2002...
The last 3 or 4 days have been interesting: I found out that the Sock Summit group on Ravelry was holding a challenge to finish a pair of socks in 3-1/2 days. I did not finish by the deadline but I got a fair bit of a pair done, got to the anklet point and still want to do another 3 or 4 inches of knitting. They've extended the deadline to allow a few more people to receive prizes, so I'm going to give it a try to finish.
This was my last photo before I posted my "this isn't going to get done in time" message: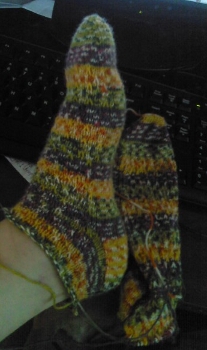 and another photo: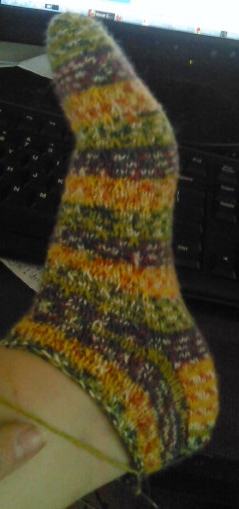 The photos suck, I know. Took them with my phone and I don't think it has flash. I could have used my camera, but this is quick & easy & I don't have to take an SD card out and such! Sorry about that!! Will have some camera photos when the socks are done, though!
The pattern is Everyone Outta The Pool and is a toe up pattern. I think the next pair I start will be cuff down, see if I enjoy doing that a little better and MAYBE I should even try doing socks ONE at a time... maybe I'll get more socks done that way... worth a try to get more handknit socks for winter.
Funny to be thinking about socks for winter when the highs will be over 100 degrees...
Glad July is over & hopefully August will go quickly as well... I was ready for cooler weather back in May! Summer came VERY early this year!!
Plans for August will be to do some art ANY art every day in August.. some drawing (facial features), work on the shawls & work on the house a bit... though our air conditioning is questionable so sometimes it's just too hot to do much of anything...
Last but NOT least: Happy HAPPY birthday to my wonderful sister, Carol!!!!!
Posted by Jessica at
11:37 PM
|
Comments (0)
July 18, 2011
progress and promises
I made a promise to myself to keep trying to re-improve my art. I haven't decided for sure which direction or how often, but will do a little here and there. The initial goal will be to break the block.
I made a little bit of progress on my Around the World in 80 Days project, but nothing that I can take a photo of to show really. I decided I don't want to do a full square, but would rather do a 3/4 piece, which will be worked the same way as the triangle.
First I tried it with a size 6 needle & it was too loosey goosey.
Tried again with a 5. Same.
Tried again with a 3 and think it MAY be too tight that way.
looked at the square that I had started & wondered why that had a nice fabric when I was using a #5 needle. Lightbulb: THAT was worked in the round and the 3/4 attempts were worked back & forth.
My guage is always looser when working back & forth, especially with stockinette stitch when one row is knit and the other is purled. I guess I purl really big! I think if I do garter stitch (no purling), my gauge is okay. I wonder what would happen if I purl both sides (this also would result in garter stitch), how would that look. Not that I WANT to. Purling is okay, but I look forward to knit rows & mixed knit & purl rows as well as lace rows.
ANYWAY I'm expecting a #4 needle to come, possibly tomorrow or Wednesday, and when that gets here, I'll start again & I'm betting the 4 needle will be my best result for back & forth knitting. 3 is still possible. We'll see.
We've had 100 degree temperatures EVERY DAY this month. I'm SOOO looking forward to when it's lower, like 80s again... when the highs are in the 80s and the lows in the 50s, we don't need any heat or air conditioning. 40s are iffy.
Enough for now, just wanted to post an update! I think there may have been something else I wanted to add, but I can't remember right now.
Posted by Jessica at
07:45 PM
|
Comments (0)
July 11, 2011
a blast from the past
I decided to start blogging again. I never actually quit, I just stopped posting for a long while. No real reason, I just didn't post.
I have 2 shawls in progress & I'm really not sure WHY I'm knitting shawls since I don't even know if I'll wear them. They can be gifts, but maybe I'll wear them in the wintertime to take the chill off, although in winter, a heavier shawl is more suitable.
I took pictures with my phone... will try the camera next time & with better lighting:
This is the Summer Mystery Shawl from Wendy Knits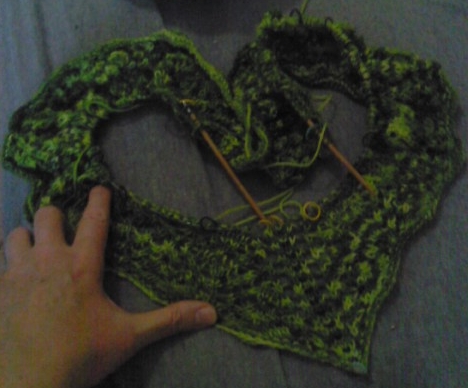 They yarn is a fingering weight sock yarn, color name is Kermie from C*Eye*Ber*Fiber. fun! A friend sent me the yarn after we lost our house in the fire. Thanks, Tracy! :) Chart 2 is done, ready for the 3rd.
And this is the Around the World in 80 Days mystery shawl. I'm doing the square version. I started late (clues up to #8 or 9 are already posted, and I liked the way it was all shaping up, so I cast on! The next clue is due out in about a week or 2 and I'm in the middle of clue 3. I'm not necessarily planning to catch up. If I do, I do and if I don't, it's fine!)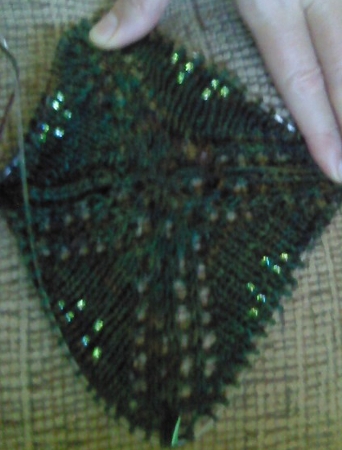 Neither of these photos are that good, but I wanted to get the pictures onto the computer.. the color for the Around the Wold in 80 Days shawl is pretty close to true, which is why I chose that particular photo even though it is blurry. The yarn for this project is a cone of cashmere that I purchased in the early 90s from School Products. It's a light fingering weight, I think, and originally was a dark honey color. It was in one of the boxes in storage... VERY glad I found it! I decided I wanted to handpaint the yarn & now it has a more earthy leafy green blend of colors. Fun! Hopefully I will have enough painted yarn to do the whole shawl...I think I still have some of the dye powder, so could conceivably dye up some more, but I hope I won't have to.
I also need to find or buy some pins and will be able to take MUCH better photos when I can strettch and pin the pieces. I only found 1 pin... better than nothing, but... ahem? Heh.
Both show the 3rd clue and are fun to knit. I'm using beads in the Summer Mystery Shawl, but they are hard to see. They are bottle green colored beads & actually look kind of nice. I probably shouldn't have used beads with this color contrast, but I felt like it, so I will continue doing so. The pattern doesn't have beads, so I had to decide where to place them...
We've finally been able to move back home. I didn't need to sell the wheel for it, was able to get funding for the septic... so now we are here. I still plan to sell the wheel: there are still several things we need, not as pressing as septic (to enable water to be turned on), but pretty important, like fencing so the dogs can go out in the yard.
We moved in March. While we were in the process of moving, we thought we lost our cat, Boomerang. He was missing for about 4 days. Gary had gone over to take a shower before work (they were working on septic/water installation that week) and Boomerang was waiting for him by the car. He was nearly tailless. He had an accident of some sort & was probably hiding/trying to recover. We took him to the vet & she said it looked like he had gone under a vehicle to get warm & when they turned the motor on, the belt whipped his tail off. He also has a bit of a limp in one of his back legs from it, probably from trying to escape. He had surgery to "neaten" the tail (the bone was showing, ugh!) and he is fine now.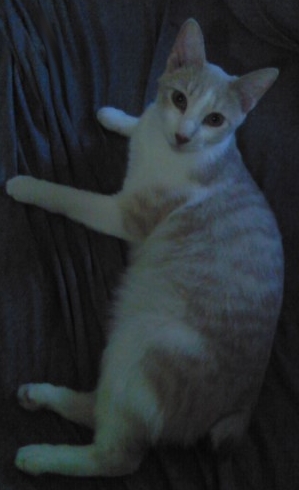 We still have a lot to do here: plumbing needs repairs, flooring needs to be replaced in some areas/put down in others (kitchen & laundry room only have OSB flooring)... we need furniture so we can put things away, and re-arrange walls in the master bedroom so that we can have a pantry. There is an alcove in the bathroom that is mostly wasted space. As is, the bathroom would be big enough without it.
The most important thing is that we're living in Our Own Place now.
Posted by Jessica at
03:24 PM
|
Comments (0)