Superfine Merino
Please email to place your order! The cart is not currently working, email me and let me know what you want.
JaggerSpun Superfine Merino, made from fine Australian wool, is a soft, elegant yarn that has traditionally been used in creating garments of the highest quality.
It is a true luxury yarn at an affordable price.
• 2/18 -- approx. 5,040 yds./lb. - 1 lb. cones
• 100% Australian Merino wool, super fine grade.
• Dry clean or hand wash in cool water and lay flat to dry
• Mothproofed.
These yarns are sold on one pound cones (a little less than half a kilo). Superfine Merino yarns are $60.75/lb).
Shipping is additional.
If you want to pay by check or money order, please email us and we'll send you the total to be sent.
Note: Ecru is no longer available in the superfine merino: consider vanilla instead.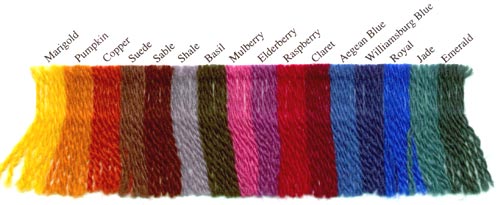 Superfine Merino
US$60.75/1 lb cone
Superfine Merino
US$60.75/1 lb cone