Kokadjo Fingering Weight Wool/Silk Yarn
For a custom invoice, or if the ordering buttons aren't working, email me and let me know what you want. .
JaggerSpun Kokadjo is a fingering weight yarn, made from 90% superwash wool and 10% silk. This is a great yarn for socks with the silk giving them extra durability. The silk also adds a subtle sheen and drape to this yarn making it really fun for lace work, scarfs or shawls. This yarn is very versatile and fun to work with! It's also machine washable!
It is a true luxury yarn at an affordable price.
4/14 -- approx. 1960 yds./lb. - 1 lb. cones
435 yds/100 gram skein 218 yards/ 50 gram skein 90% superwash wool/10% silk
Machine wash/dry flat
These yarns are sold on one pound cones (a little less than half a kilo), and 100 gram skeins.

1 lb cones:$53.15
100 gram skeins (5 in a bag): $60.00
(fewer skeins may be available,email me at the link above.)
Shipping is additional.
If you want to pay by check or money order, please email us and we'll send you the total to be sent.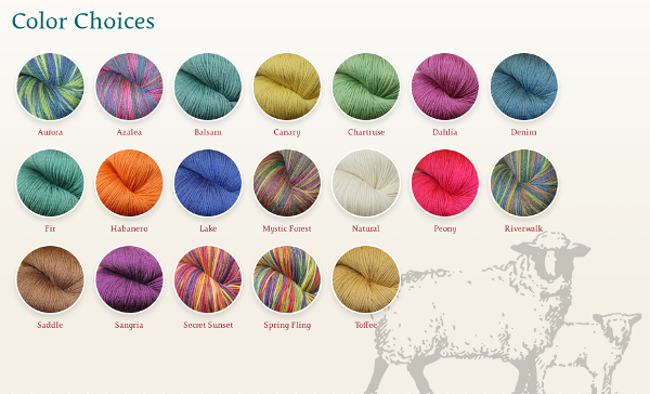 ** Kokadjo (*asterisks denote multicolored yarn)
US$53.15/1 lb cone