Briggs & Little
100% Wool Country Roving


Briggs & Little 100% Wool Country Roving is a 5 ply Unspun pencil roving that is good for either hand spinning or knitting Cowichan style garments, as well as fleece filled mittens and thrums. It is an excellent substitute for the discontinued Bernat White Buffalo unspun yarn.
NOTE: 3 of the colors are not on the color card: Snow White, Lite Grey & Blue Heather. They are in the drop down menu.
Country Roving comes in 8 ounce rolls.
5 ply 100% wool unspun pencil roving 11sts to 10cm (4 in.) 340 Yds/lb (170 Yds in an 8 oz roll)
1 roll is $10.85, buy 14 for $133 ($9.50 each). Mixing and matching Briggs & Little yarns is fine to qualify for the 25-per/7 lb discount.
NOTE: Shipping is additional and will be charged separately unless you email me first for a custom invoice! We will send you a PayPal money request with the correct amount for yarn & shipping if you email us with your order information.. please email us at info@weavingrainbow.com and we'll either send you information about your shipping costs. We can either send you a PayPal money request or information about mailing payment.
Orders will be placed on Tuesdays & they get to us at the end of the week. We can only place special orders when we have approximately 7 pounds on order. If you need less yarn, email for more details.I will post on the yahoogroup lists when I can place an order. Email me for more details about this.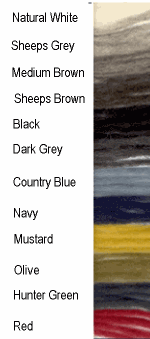 Buy 14 rolls of Country Roving US$133.00 per 14 rolls
If you want different colors in a 14 pack, email us for an accurate invoice at info@weavingrainbow.com